January 17, 2023
Franchise Company of the Year 2022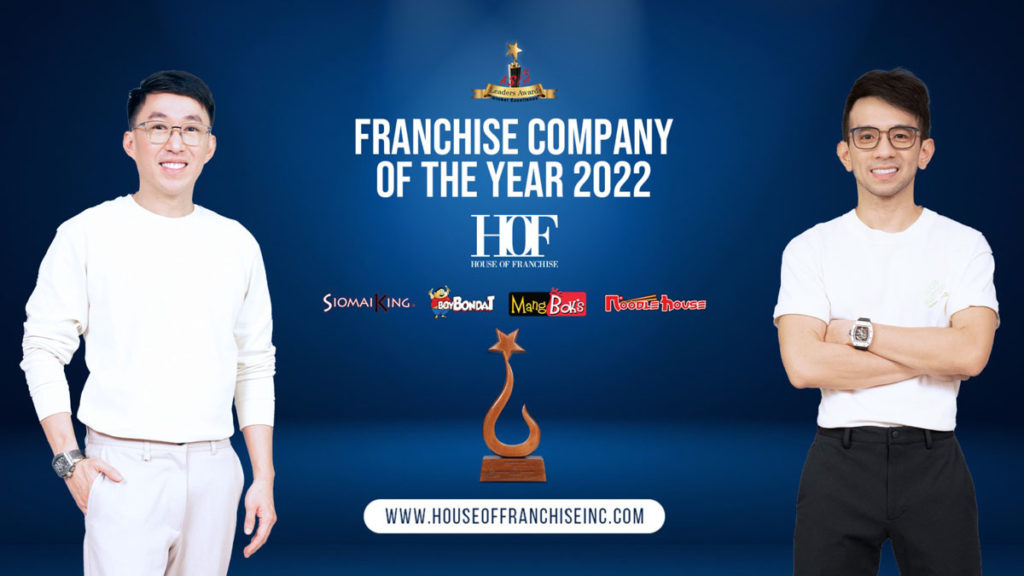 MANILA, Philippines — The entrepreneurial partnership of JC's Jonathan So and Carlito Macadangdang has recently been awarded by the Asia Leaders Awards as the Franchise Company of the Year for the third consecutive time.
The business tandem that gave birth to the House of Franchise (HOF), a one-stop shop for brands like toktok, Siomai King, Mang Boks, Potato King, Sgt. Sisig, Burger Factory, Noodle House, and Boy Bondat, has been a consistent awardee for the past three years that it was also honored as Asia Leaders Awards' Franchise Company hall of fame awardee.
Asia Leaders Awards focuses on the global excellence of the awardees, acknowledging business leaders making a difference not only in their respective fields but also promoting the Philippines as the premier business hub in Asia and beyond.
So and Macadandang have been particularly successful during the pandemic era where very few businesses survived. They have turned the situation into an opportunity, offering livelihood for Filipinos on lockdown through online innovation. Perseverance has been their key to success.
This enabled JC to expand it brands from Siomai King to toktok and other franchising juggernauts-Mang Boks, Potato King, Sgt. Sisig, Burger Factory, Noodle House, and Boy Bondat.
"So once you accept that there is no shortcut to success, you will begin to take on the difficult journey, and with that journey, you will learn from there, then you will succeed in the end. Just keep going," said So.
Macadangdang added that taking rests is also vital, especially since it is unavoidable to have gloomy, trying times.
"There will be days when you will get tired, just rest. And tomorrow, your drive will continue to grow. And much more, should you spend more time on your dreams and those things you want to accomplish. Because there is no room for laziness in the life of the person who wants to be successful or to rise – or wants to advance in life," he said.