February 02, 2023
Franchise Company of the Year 2022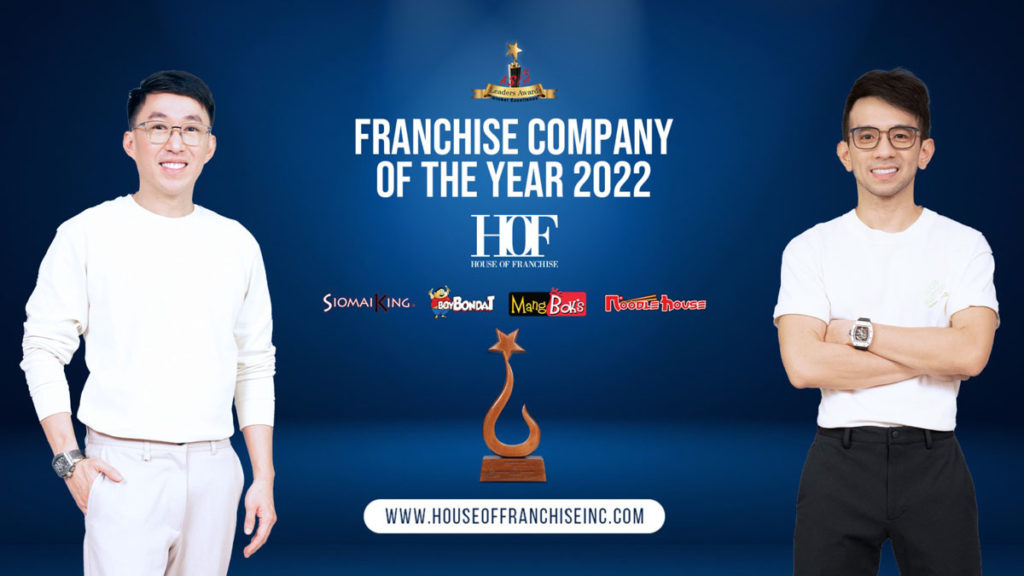 JC's Jonathan So and Carlito Macadangdang
The corporate world may seem stuffy from the outside, but it's a lot more exciting than one might imagine. Even though starting a firm can be terrifying, many business tycoons are nevertheless known for having appealing personalities at work and at home. For instance, the rise to success of JC's Jonathan So and Carlito Macadangdang is an encouraging entrepreneurial tale from which we may all learn.
From a mere home backyard siomai business, the friends-turned-business-partners have yet again launched a new tower of success that celebrates and upgrades their ventures into a bigger and better space.
So and Macadangdang's House of Franchise, which was just launched last September 24, 2022, is a two-story building that was built to serve as a one-stop shop for brands like toktok, Siomai King, Mang Boks, Potato King, Sgt. Sisig, Burger Factory, Noodle House, and Boy Bondat.
The fully adorned office along Shaw Boulevard, Pasig City, is a testament to the business acumen and ingenuity of the two and is a testament to their three-year consistent award as the Asia Leaders Awards' Franchise Company for 2020, 2021, and 2022.
Very few businesses survived at the height of the COVID-19 health crisis in the Philippines. The unfortunate situation allowed So and Macadangdang to expand their brands from Siomai King to toktok and other franchising juggernauts-Mang Boks, Potato King, Sgt. Sisig, Burger Factory, Noodle House, and Boy Bondat.
The challenge of working and selling products became a livelihood opportunity for Filipinos on lockdown through the system and innovation created by So and Macadangdang.
For JC's President and CEO Jonathan So, the House of Franchise's foundation came from the perseverance of its franchisees and customers, "especially during the pandemic."
So, who is a firm believer that there is no such thing as a shortcut to success once noted in an interview that the more a person tries to take the faster route to reach their goal, the more that they are likely to make mistakes and experience more hardships.
"So once you accept that na wala nang shortcut sa success, magsisimula na yung journey mo na mahirapan ka, and then yung journey na 'yon, you learn from there, then mag-su-succeed ka din sa dulo. Basta tuloy-tuloy ka lang, (Once you accept that there's no shortcut to success, you begin your journey of hardship. You learn from there and you'll succeed in the end, as long as you keep at it.)" the wise business magnate advised.
("So once you accept that there is no shortcut to success, you will begin to take on the difficult journey, and with that journey, you will learn from there, then you will succeed in the end. Just keep going,"
JC's Vice President and CFO Carl Macadangdang also reminded that taking rests is also vital, especially since it is unavoidable to have gloomy, tiring days.
The young leader encouraged: "There will be days na mapapagod ka, itulog mo lang. And kinabukasan, kailangan 'yung drive mo will continuously grow. And much more dapat mas maraming kang oras naigugol para sa dreams mo at saka sa mga gusto mong ma-accomplish sa buhay. Kasi wala puwang ang katamaran sa buhay ng tao na gustong maging successful or gustong maka-angat sa — or gustong umasenso sa buhay."
"(There will be days when you will get tired, just rest. And tomorrow, your drive will continue to grow. And much more, should you spend more time on your dreams and those things you want to accomplish. Because there is no room for laziness in the life of the person who wants to be successful or to rise – or wants to advance in life)."
From mere 21-year-old Binondo dreamers, today, So and Macadangdang are now award-winning entrepreneurs with continuously growing success. Today, their Siomai King is now joined by internationally-recognized names such as "Poging Driver" app toktok, Boy Bondat, Copper Mask, Kind Skin Care, IT company Cloud Panda PH, Calvit C, and Barley.