January 25, 2023
What Makes Barley A "Superfood"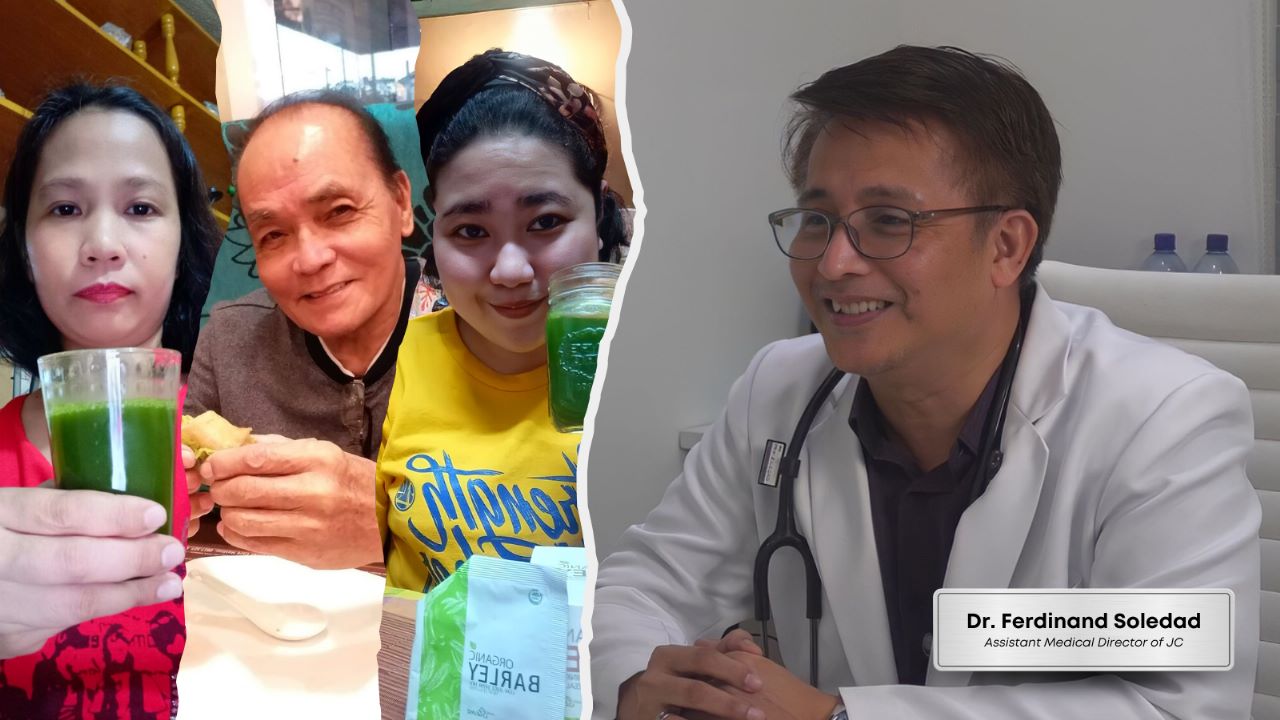 What made barley grass the "superfood" of the 21st century?
These green shoots of the barley plant have been proven to contain the nutritional value that prevents various diseases.
Dr. Ferdz Soledad, Assistant Medical Director of JC that distributes JC Organic Barley Juice, said barley grass has the capacity to improve cholesterol levels, balance blood sugar, boost the immune system, among others.
"Ang concentration ng use of barley is the removal of toxins na posibleng magbigay ng mga karamdaman sa katawan," said Soledad, who specializes in integrative medicine.
"'Pag nagtetake ka ng barley, ang mga lason o toxins na di kailangan ng katawan natatanggal natin sa pamamagitan ng fiber. Nakakapasok ang fiber sa blood vessels natin kasi ang composition niya is similar to hemoglobin, 'yung tinatawag nating chlorophyl. Nagbibigay ito ng tulong sa magandang daloy ng dugo."
Through its antioxidant properties, barley helps reduce the risk of coronary heart disease, reduces the risk of having cardiovascular disease and the formation of blood clots, lower blood cholesterol and the blood glucose level, promotes a healthy digestive system by maintaining a healthy colon, and helps strengthen the immune system.
Barley grass, which is typically consumed in the form of juice or capsule, also aids in weight loss.
"Ang kakayanin niya is maimprove ang metabolism na parang bata na kahit na anong kain mo, nabuburn mo siya so hindi ka naggegain ng weight," he said.
"So by combining ang pagbawas ng pagkain and improving the metabolism via intake of barley nagkakaroon ng response ang katawan natin to lose weight. Mostly 5 pounds in a month."
Among those who have experienced the wonders of JC Organic Barley Juice is Irish Manalang, a 22-year-old college student who experienced gout and a urinary tract infection.
"Before ako nagkaroon ng gout hindi healthy ang lifestyle ko, hindi ako fan ng organic product regarless ng brand, sobrang hina ng immune system ko. Hindi ko inexpect na magkaroon ako ng gout; ang thinking ko ang mga yun para sa mga adult na," she said.
"Pinatimpla ko sa mama ko yung juice… Before hindi ko maiapak ang paa ko, even 'yung lapat lang hihiyaw ako sa sakit. then 'Ma, naapak ko ang paa ko.' Ganun ang tuwa ko that time, hindi ko inexpect e."
Miguel De Leon, an 80-year-old retired businessman from Zamboanga, said he reaped the benefits of daily barley intake.
"Matagal na kong may diabetes, mga 30 years na. During the pandemic, on and off ako nagtake ng JC Organic Barley juice, pero ngayon I drink every day na," he said.
"Bumaba ang aking blood sugar, hindi na ko nagiinject ng insulin."
It also resulted in a streamlined waistline.
"Dati 35 ang waistline ko, ngayon 31 na lang. Dati hindi ako makapagsapatos, mahirap magbend. Dahil sa JC Organic Barley lumiit pati ang tyan ko."
Lilia Birayon, who used to doubt the wonders of barley, also became a daily barley drinker.
"Napansin ko po madalas ang pananakit ng ulo, araw araw sumasakit ang ulo ko di na po nakukuha sa gamot… Then nagpacheck po ako dahil nahihilo na po ako, tapos niresetahan ako ng pang high blood," she said.
"Then yung JC Organic Barley juice, natawa nga ako sa sarili ko kasi parang nilalait ko lang siya na damo lang iyan angong maitutulong sa akin? Pero after kong uminom mga two to three days days lang nakita ko po ang epekto agad."
She claimed that her hypertension eased down after two months due to barley juice.